When looking for a job, your resume is the most important marketing tool at your disposal.
They say there is nothing like first impressions, and this is so true when a potential employer reads your resume. It is their first interaction with you.
A recruiter or hiring manager will make a split-second decision about you based on your resume. Your resume will be put in the waste basket if it does not stand out, is not formatted properly with correct spelling and grammar, and if your skills are not clearly identified.
This chapter will take you step by step through the essential parts of a resume:
Formatting a resume
Proper resume format
Determining font, color, and other aesthetics
Honesty and integrity
Spelling, grammar and writing style
Complying with resume norms
Job titles
Key sections of a resume
Section placement
Additional resume sections
Customizing your resume
(Please note: real names, contact info, & company names will not be used in this chapter.)
Part 1 – Effective Resume Length  
The debate for many job hunters is: how long should my resume be? For individuals with 5 years of experience or less, the rule of thumb is to keep a resume to 1 full page. For those with over 5 years of experience, not including executives and those who have specialized talent, a resume should be under 2 pages. For executives and those with specialized technical talent, a resume can be over 3 pages.
Part 2 – Effective Resume Format  
When formatting a resume, it is recommended you use a standard word document or PDF file in a version that most employers will have. Try not to use uncommon or unfamiliar file formats, such as JPEG. Why? You want to ensure that your file can be opened without any difficulty. If a hiring manager cannot open your file, it will be game over for you.
Part 3 – Effective Resume Font, Color, and other Esthetics  
When choosing a font, use a standard Word font: Arial, Calibri, or Times New Roman. These are standard business fonts and you should stick with one of them. The font should be consistent throughout the entire resume. Keep it to a size 10 or 12 – not too small to read but not too big to overpower the page.
No matter how much you are tempted, keep the font color plain black. The only time you should deviate from this would be if you were applying for an art-related job – then your artistic creativity can trump standard formats.
You want your resume to stand out. But at the same time, you don't want it to be so different that it attracts negative attention. Bolding and highlighting is a good way to draw potential employers' eyes to key areas you want them to look at. It is recommended you bold key topics, such as Job History or Education. Bold and/or underline important words like job titles. By bolding and highlighting key areas and words, your resume will stand out but not deviate from accepted formats.
Part 4 – Honesty and Integrity
Your resume should honestly reflect your true skills. This is paramount.
If your resume is embellished, at some stage in the hiring process (likely the interview stage) you will be caught—an interviewer will ask you questions about the skills or experience you listed on your resume, and you won't be able to answer. If your resume lists job titles you never held, companies you have not worked at, education you do not possess, or falsified job dates, these things will be flagged during a background check.
Many employers use third party background check companies. Employers listed on your resume and educational institutions you attended will be contacted directly during the background check. If what you listed on your resume cannot be verified, you will be disqualified from that job, even up to the offer stage.
It is ok to list things on your resume that you have done but are not an expert in. But on the other hand, you should never lie outright.
Part 5 – Spelling, Grammar and Writing Style
An unprofessional resume full of spelling and grammatical errors will negatively impact your ability to get a job. Your candidacy for a job depends on a cleanly written resume.
Even if you are talented in your field, many hiring managers and recruiters will deem you incompetent if you do not use proper English. It is important and worth the time it takes to make sure your resume is free of errors. If you are not the world's best speller or your grammar could use some brushing up, ask friends and family for help. Beware: most automated spell checks do not effectively fix all errors, so don't depend on spell check.
In terms of writing style, always write in the third person on resumes. Writing in the first person is considered unprofessional. You should write using professional words and technical terms; slang is not acceptable.
Part 6 – Complying with Effective Resume Norms 
What is considered normal resume content in some countries is unacceptable in others. For example, in North America, including a photo of your family in your resume is a no-no. So is including how many people are in your family, their names, ages, etc. Putting these items on your resume will make you look strange compared to other job seekers, and could cost you the job.
Learn the resume norms of the country you're currently living in and comply with them.
Part 7 – Job Titles for senior positions
When looking at resumes, the first thing many recruiters look at is job titles. This is why you need to create effective job titles. Below are some key tips.
Your job title must be the most common title that is recognizable by most employers. You should use the most common vernacular if your title is not easily recognizable. For example, if your title is just Consultant, no one will know what kind of consultant you are, so you should make your job title more specific: Project Manager – Consultant. If your company uses an odd title for your job, you should still put your legal title in brackets or with a dash, followed by the commonly recognized title. Do this so it can be matched to your employee records at the background check stage. An example might be having a title such as business consultant for an account manager. You might replace this with Account Manager – Business Consultant.
Always be honest with job titles. Although you can change your title to the most common vernacular, you should not embellish it. For example, if you are an accountant, not an accounting manager, it would be misleading to have Accountant Manager as your title. Not being honest will come back to haunt you on many background checks.
Keep your titles as short as possible but with as much searchable information as you can. From an SEO (search engine optimization) perspective, long titles are harder to find and clog up SEO algorithms. At the same time, job titles must be optimized with enough information so that hiring managers will find your resume on databases, job boards and the web.
Words that are searched together should be placed together in the job title. For example, in health care, many recruiters search ICU & RN together, so these words should be placed together in the job title.
Secondary search words are a good idea to add to your job title. For example, in technology, some recruiters search by Java or J2EE so having Java / J2EE Developer as a title will increase the chances of that resume showing up in their search.
Example of Titles in Different Industries
Accounting
Chartered Accountant / Auditor
Engineering
Mechanical Engineer / Engineering
Financial Services
Financial Planner / Advisor
Healthcare
ICU RN / Registered Nurse Intensive Care Unit
Insurance
Life Insurance Advisor / Agent
Manufacturing
Plant Manager / Superintendent
Oil & Gas
Field Operator / Oil & Gas
Pharmaceutical
Pharmaceutical Sales Representative / Account Manager
Retail
Retail Store Manager
Technology
J2EE / Java Developer
Part 8 – Key Sections of a Resume
The main sections of your resume are:
Your Personal Info
Objective
Education
Job History
Skills.
Below you will find a description of each.
Your Personal Info
This section appears at the top of a resume and includes your basic information. Some job seekers are afraid to include their personal contact details and address. This is a mistake because it makes it harder for employers to contact you. If you have a major certification or education in the profession you are applying for I would recommend you put it beside your name. Also, your name should be the largest font on the resume. If you used 12 for your resume, your name should be set at 14.
Example of the personal info section:
Jane Smith CFP
534 Jackson St • Plano, Texas • 75027
Tel: (111) 111-1111 Email: [email protected]
Objective
There are some experts who believe you should not include the objective section anymore on resumes as it is a waste of valuable resume real estate. But many employers expect to see an objective section so I would still recommend having it on your resume. Stating your objective serves the purpose of being an introduction to your resume. Keep this section brief. It should highlight your background in 1 or 2 sentences.
Example of an Objective Section:
Future-focused Financial Analyst with a commitment to quality and accuracy seeks a progressive role with a dynamic, growth-oriented organization where financial modeling & analytical techniques can be leveraged to achieve exceptional results.
Education Section
This self-explanatory section focuses on your education, certifications, and courses. You should include education, certifications, and courses that are relevant to the job you're searching for. If you have certifications that are not relevant to the job you want, do not list them on your resume. For example, if you have a personal training certification but are not looking to get hired as a personal trainer, that certification doesn't need to be on your resume.
You can also list courses in progress or ones you are looking to do in the future. This will show initiative on your part and might give you an advantage over other candidates. Another good reason to include courses and certifications: if a recruiter searches for a specific credential, you might pop up on their search.
Where should the education section be placed in your resume? If you applying for a job where specific education and/or certification is centric to the job, place it near the top. If not, place it at the bottom.
If you are seasoned in your career, you might choose to leave out the year you graduated. Academic achievements, such as high GPAs or scholarships, should be included in this section. Many entry level roles like to see potential candidates' GPAs.
Example of Education Section:
EDUCATION
Formal Education:
MBA – Focus in Financial Modeling (4.0 GPA) – University of Florida 2017
Bachelor of History -York University, Toronto 2015                                                                                                   
PMP – Certified Project Manager – Project Management Institute 2016
Lean Six Sigma Green Belt – In Progress
Job History Section:
The job history section is the most important section on your resume. It is the section which describes your work history. It is also the section hiring managers are going to focus on.
Your jobs should be listed in chronological order from newest to oldest. Your company, job title, employment duration, and city you worked in should all be listed before your experience. It is a good idea to write a synopsis of the company you worked at. In bullet points, note your positive experiences in that job, from most important to least important. This is a way to market yourself to employers: they see what you have achieved and how you can help them. Be sure to include any large-scale achievements you had at that job.
For the tech sector, along with all the tech skills you used at that company, list the technical environment at the end of the position.
Example of Job History Section:
WORK EXPERIENCE
Health System America
Director Talent Acquisition, Seattle Washington (November 2013 – Present)
Health System America is one of the largest health care organizations, with more than 100,000 employees across the United States. The system supports 80 hospitals as well as 100 long term acute care facilities. As a director of talent acquisition, led the talent acquisition functions for the entire organization. Specific duties include:
Build from scratch Health System America's talent acquisition department, including hiring the recruitment team, creating metrics, processes, SLAs and overall strategy.
Saved the organization 50 million dollars in agency saving over a 5 year period
Reduce time to fill metrics from over 50 days down to 28
Lead, train, mentor and guide teams of 50 staff including 5 managers, 30 recruiters, 10 sourcers and 10 onboarding specialists.
Design, develop, and implement recruitment process improvements.
Successful large scale projects:  Staffed new units for Operating Room, CVICU, Free standing ER, Dialysis, Peds, NICU, ICU, Med-Surg & Wellness Center.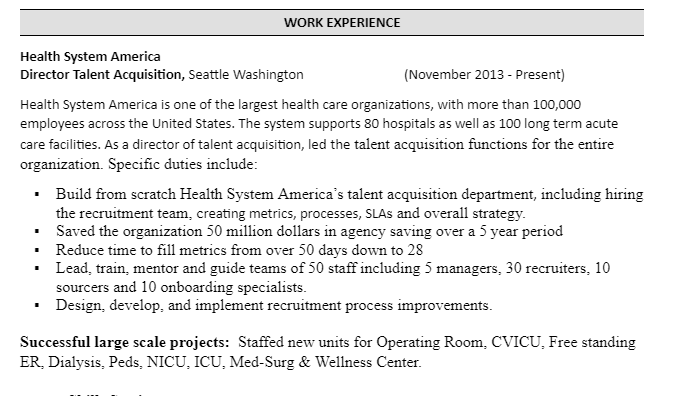 Skills Section:
The skills section is the area of the resume where you list all your relevant skills. This area is also important in terms of SEO—when filling a job, the key words recruiters search for are often what skills you list. To pop up on a recruiter's search, make your skills specific. For example, don't just list MS Office as a skill; include the specific Office programs that you are familiar with: Word, Excel, etc. Sometimes the smallest skill can pop up on a recruiter's search.
Example of Skills Section:
SKILLS
⬥ Microsoft Office (Word, Excel, PowerPoint) ⬥ Accounting & Payroll Systems (ADP, JD Edwards, Oracle) ⬥ Financial Statements ⬥ Accounts Payable/Receivable ⬥ Tax Reporting ⬥ Bank Reconciliation ⬥ General Ledgers ⬥ Payroll  ⬥ Profit and Loss Analysis
Part 9 – Where to Place Those Sections on a Resume
In most cases, your resume should follow this order:
Personal info
Objective
Job history
Education
Skills
In occupations where education or skills are critical, you could put education and/or skills directly after the objective section.
Part 10 – Additional Resume Sections & When to Add Them to Your Resume
There are additional sections some individuals put on their resumes. For each of these sections, the pros and cons will be discussed as well as when to use them. These sections include:
Volunteer experience
Un Paid Internships/Co-Op
Hobbies and Interests
Awards and Achievements
Publications and Patents
Industry Experiences
Languages
Un-Paid Internships/Co-Op – Only list unpaid internship or co-op experience if it is relevant to your field or if you are lacking real-world job experience.
Volunteer experience – Include your volunteer experience if you are applying to jobs who look fondly on volunteering, like non-profits or social-minded companies. Also, many entry level jobs like to see what you have done past school and work, so this could be useful in this instance. Volunteer experience could also be used to fill a void in resumes for individuals with limited work experience or who have been out of work.
Hobbies and interests – For the most part, this section is not needed unless you know a potential employer values specific hobbies and interests.
Awards and Achievements – This section can be useful if you have achieved certain job-related achievements in your profession, such as winning specific industry awards.
Industry Experiences – This optional section is where you list what industries you have worked in. This section is good for candidates who work in consulting or are looking to get into consulting.
Patents and Publications – This is a rare section usually reserved for very technical roles. In some engineering roles, this section is quite useful.
Languages – This section lists the languages you speak. In certain countries, like Canada where both English and French is spoken, speaking 2 languages can increase your chances of getting the job. Do your homework to see if employers in your geographical area are interested in candidates who speak a second or third language.
Part 11 – Customize Your Resume to the Job You Are Applying For
Unless you are using a quick apply, you should customize your resume for every job you apply for. This means that for every application, you should customize your resume with key words you see in that particular job description.