One of the most frequently LinkedIn formatting questions we get asked is "How do you add bullet points to a LinkedIn Profile?
The Benefits of Bullet Points
They make your LinkedIn profile (and any LinkedIn post) easy to read.
They are very useful for making lists, particularly when it comes to listing responsibilities and achievements in the experience section of your LinkedIn profile.
Keep the reader interested by leading the reader through your profile; make sure the sentences aren't too long.
How to Add Bullets on LinkedIn
The good news is that there is an easy way. However, it may not be the best especially if you want larger, clearer bullets.
The Easy Way
Adding a dash (-) or asterisks (*) works for bullet points.
The downside is that they look bland and uninteresting especially as the idea on LinkedIn is to create an instant favorable impression.
The Copy and Paste Method
Another way to create a bullet is to find one online or on MS Word or other word processor software.
However, do you really want to do that each time you edit your profile or write a LinkedIn post?
Coming up, the longer shorter way…
The Longer Shorter Way

Step 1: Click the pencil icon within your LinkedIn profile (see above) used to make any edits you choose. Clicking on this Icon allows you to enter LinkedIn's edit mode in any given section.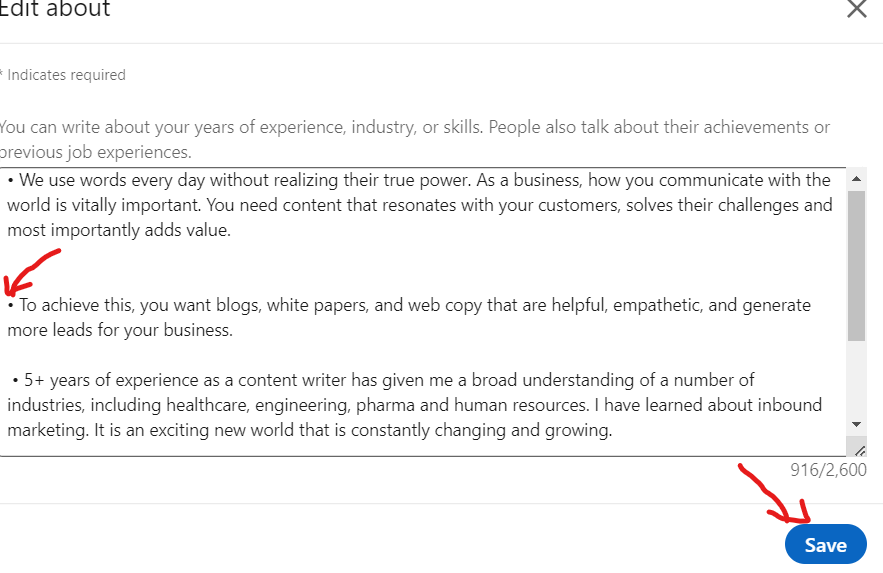 Step 2: Select where you want to add a bullet point, then hold down the "Alt key" then type "0149" [On Windows). On a Mac hold down the "option" key together with "8".
Step 3: Hit the Space Bar Once to put a space between your bullet point and the start of your text.
Step 4: Continue listing all items in this way until you are finished your list of bulleted text.
Step 5: Hit Save once you are done (see above)
Adding LinkedIn bullet points is one of the most frequently asked questions when it comes to LinkedIn formatting.
https://medium.com/digital-marketing-lab/adding-bullet-points-and-symbols-to-your-linkedin-profile-594c5d91f839
https://www.verizon.com/business/small-business-essentials/resources/i-learned-a-new-trick-as-i-mentioned-in-my-blog-post/
https://www.thebalancecareers.com/linkedin-profile-formatting-2072031